COLUMN. After having the opportunity to review a rigorous examination system for medical students in Nepal, Henrik Sjövall concludes that we have a great deal to learn from our colleagues at the Patan Academy of Health Sciences.
TEXT AND PHOTO: HENRIK SJÖVALL
The Faculty Board for a new medical program at the Patan Academy of Health Sciences in Kathmandu wanted me to review their examination system. The program is fairly unique in the sense that it aims not only to keep students in the country but to improve medical services in the rural areas. Just look at their mission statement:
Why did they choose somebody like me who is far from an international authority on medical programs? First because I had met a few of their students at a little mountain hospital the year before, pumped them for information and written an article about it (http://www.akademiliv.se/2014/10/21418/). I was impressed. Second because I come from a country with a well-functioning, tax financed healthcare system, a global success from their point of view. They are at a crossroads and are looking for guidance on how to follow in our footsteps. Sometimes we forget how envious others are of us and get bogged down in whining about our own shortcomings.
In any case, I felt honored and took a closer look at what they wanted me to do – both assess their final exam and review the quality of the entire system (whether they are teaching and grading the right skills and abilities). The week before my departure, the media reported several cases of cholera in Kathmandu. I took the last dose of my vaccination regimen just before boarding my plane.
I saw few traces of the earthquake when I arrived. The only exceptions were very old houses with crumbled mortar – only bricks remained
(photo).
The clearance effort is still under way. We passed a statue with the heart-rending notice, "Temporary shelter for the God" (photo).
We attended Gai Jatra, a festival to mark the end of the mourning period. Photographs of the victims were carried around in a procession surrounded by singing and dancing teenagers who swung canes at each other (photo). These are obviously people who know what it is like to rise out of the ashes.
As soon as I arrived at the hospital, I got together with the Faculty Board and told them how I wanted to proceed. Swedes are very particular about following policy documents that describe intended learning outcomes and their assessment. I made it clear that seeing those documents was among my top priorities. Plus I was interested in a few examples of the informational materials that students receive. And of course the database of exam questions. Not to mention the documents on which assessments of skills and attitudes, particularly ethics, are based. Said and done. Archana Shrestha, their administrator, and I sat down at her computer and retrieved all of the material I had requested. She even let me continue on my own when she had other things to do. The long and short of it is that I now had every scrap of information I needed to do my job.
Next stop was the Faculty Board. I had a long talk with Kedar Baral, Rector, Shrijana Shrestha, Dean, and Shital Bhandari, Director of the entire examination system. They eagerly answered all my questions. Now I was ready to form a more concrete idea of the examination questions and their difficulty. The 50 multiple choice questions that I reviewed turned out to be at approximately the same level as their Swedish counterparts.
The final examination consisted of three parts. The first part was a combination of multiple choice questions and problems to solve. The second part was an objective structured clinical examination (OSCE). The third part was an oral package with a structured section ("five causes of shortness of breath") and an management section ("how to treat elbow fractures"). That's when I began to realize what a good system they have.
But maybe just on paper? I scrutinized the OSCE.
The first station involved using SPSS statistical software to perform a variance analysis on clinical material and interpret it.
The second station required a four-field tabulation of category data, as well as calculating confidence intervals and their significance. The third station was to provide counseling to a rheumatoid arthritis patient (played by a specially trained actor ) who had suffered a miscarriage. Given her strong desire to have children in the future, the question was whether she should stop taking her medication.
The challenge at the next station was to inform a professional actor that he had an incurable brain tumor. The examiner completes a checklist: appropriate greeting, proper posture, empathy, etc. Among the other stations were interpreting an X-ray of an infant with dense right lung tissue and mediastinal displacement and a tricky infarction EKG, as well as trying to convince a COPD patient to quit smoking.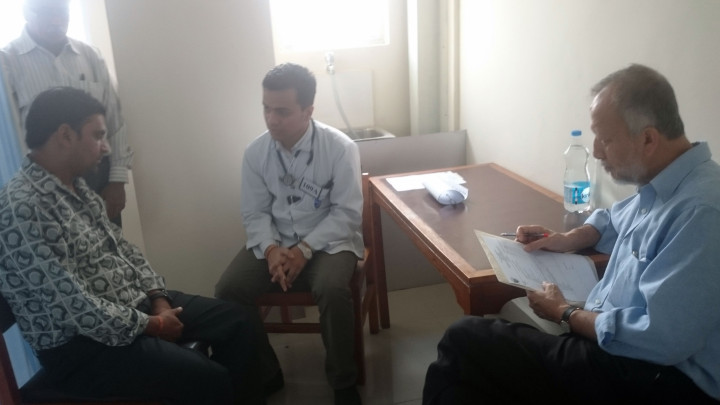 The practical stations used dolls: how to aspirate and ventilate a sick infant and how to handle a partially detached placenta.
Two of the last stations required a neurological assessment of a patient with leg weakness and an examination of a newly diagnosed hyperthyroidism case. Each station had a time limit of 10 minutes, and a chair was available to rest in after every 4 or 5. Twenty-seven stations altogether – an entire morning's job.
After lunch I took a look at the orals. First something they call "structured Viva." This is the initial test of factual knowledge, and the student doesn't have much time. One person asked the questions and the other one checked off the right answers. Typical question: List six causes of secondary hypertension and how they are diagnosed. The bell rings: "Anything you want to add?" Next up: name six causes of tingling in the feet among young people without previous health problems. And so on and so forth. When the big bell rings, you head to the next station. A total of nine different stations, each one with rapid-fire cross-examinations that covered all major medical fields.
Next round: open Viva. Case management is the major topic here. Such as: What is the proper way to diagnose and treat myocardial infarction? A checker carefully verifies that nothing is left out. The interrogator does not ask any follow up questions but repeats, "Anything you want to add?" The bell rings and it's time for the next question. The students are perspiring – some of them are beet red in the face and others are pale as ghosts. Some of them get stuck in the middle of a memorized list of diagnoses: "Time up, next question." The orthopedic stations are replete with X-rays to interpret – a shoulder dislocation in frontal projection only, an elbow fracture. At one station, you are asked to name and describe how various surgical instruments are used. The outpatient care station instructs you to set up a study for assessing local attitudes to contraception and perform a power calculation.
After my sixth station or so, I began to wonder what the students were going through – the stress they were feeling was palpable. Back in Sweden, a workplace health and safety representative would no doubt have shown up on the scene. On the way out, I ran into some of the students I had met during my visit to AmpPipal (photo) and asked straightaway, "Are they driving you crazy here?" I was rather expecting, "You can say that again." Much to my surprise, they shrugged their shoulders: "If we can't handle it here, how could we ever make it as doctors in this country?" And what doesn't kill you makes you stronger!
My job had been to identify potential problems, and though I did my best, the final examination did not offer much to get hung up on. So I took a stab at their "formative examination," the semifinals so to speak. The preclinical program centers on problem-based learning with an emphasis on links to clinical practice.

The clinical block is based on more than a hundred "clinical situations" in which patients require treatment for a symptom or other abnormality (such as hematuria). The students are given lists of "short cases" and "long cases" that they must be able to describe in order to pass the course. The lists vary according to whether the student will be training at the university hospital in Patan or for six months at a rural institution with its specific local conditions.. The three clinical blocks are junior clerkship, rural placement and senior clerkship. Rural placement at hospitals like AmpPipal also involves visiting outlying "health posts" staffed by paramedics only – a species of professional development. Topics like teamwork, ethics and evidence-based medicine are discussed alongside of clinical projects and are subject to both oral and written exams.
One example:
Professionalism and Clinical Ethics

This course will be structured as 20 sessions that occur every other week for two hours throughout each of the five 8-week clinical blocks. The sessions will involve all of the medical students each session.

The first 7 weeks will serve as a review of issues addressed during the first two years with illustration of principles of ethics and professionalism with clinical cases followed by class discussion. The second phase of the course will involve skills development in ethical and professional reasoning by asking the students to work through clinical cases of patients that they see on the In-patient wards or in the OPD.

Assessment will be comprised of four elements:
Pre and Post-test of ethical and professionalism knowledge

Class discussion

Application of the 4-Box model for resolution of ethical dilemmas

Professionalism OSCE
How about down-to-earth tasks like inserting needles and so on? Definitely. A host of checklists (photo) also cover procedures like taking arterial blood gases, inserting venous catheters, redressing wounds and more advanced interventions such as pleural drainage. Unless your box has been checked ("performed independently and reviewed by teacher"), you fail the course.
I guess you've figured out by now that I was a bit overwhelmed, but you'll say that I must have found one thing or another to grumble about. And you'd be absolutely right. One OSCE station involved a neurological assessment of a man with leg weakness. The students seemed to be all thumbs at that point and many of them even forgot to check Babinski's sign. Another station tested the ability to assess hyperthyroidism that had been detected en passant. The students squeezed the patient all over the neck but few remembered to assess general metabolism by measuring pulse, spreading the fingers, etc. My biggest complaint was that the final examination did not take a close enough look at the student's capacity to engage in clinical reasoning. While the skill is partially included in the problem-based cases, it can best be tested by means of an oral exam ("assume that the patient suddenly loses consciousness and starts to bleed – what do you do now?"). That is the essence of the medical profession, and I suggested that the memorization drills of "structured Viva" be eliminated in favor of clinical reasoning as part of an expanded "open Viva." And maybe let up a little on the race against the clock – speed always takes a back seat to the dictates of accuracy and professionalism.
Is there anything that Swedes can learn from my experience? First off, I have to say that none of our students would have made it through the 27-station OSCE. Our sequential system is based on course-by-course learning without any demand to remember everything that you were taught earlier. Examinations for interns are still on the books but the entire program is on the endangered species list. Nor do they test pediatric or gynecological knowledge. The system of checklists of diagnoses and procedures is a must for Sweden. We leave a little too much to chance. Full use of our digital medical chart system should take care of that problem. If a patient with a rare diagnosis is admitted to a hospital somewhere, an email application should be able to notify students immediately.
Nobody likes to flunk students, but those who truly excel must have the opportunity to show their stuff and proceed to the next level. After having observed another examination system, I am leaning toward the view that ours could use a little polishing up. And in addition to my suggestions, most of what I had to tell my friends at Patan Academy was just that:
Thanks for the tips – I will take them back to Sweden with me.
Henrik Sjövall