This year's Almedalen Week is over. With more official program items than ever: 4 100 over seven days. Visitors chose between anything from "Nordic initiative for supplier responsibility in Thailand" to "More vegan options at work – how I can veganize working hours". And of course the traditional party leader speeches. But in spite of the incredible scope, two areas stood out: health and medical care, and sustainability.
Researchers from Sahlgrenska Academy participated in many exciting seminars, panel debates and other events in both areas. Including in the seminars organized by West Sweden Arena, that brings together University of Gothenburg, Region Västra Götaland, City of Gothenburg, Chalmers, West Sweden Chamber of Commerce, University of Borås, University of Skövde, and University West. This year, the University of Gothenburg chose to present research from the interdisciplinary research initiative UGOT Challenges. AgeCap and CARe are two of the six research centers within UGOT Challenges.
At the seminar "Soon there will be more over 65s than under 16s – Crisis or opportunity?" researchers from AgeCap (Center for Aging and Health) discussed the issue with pensioner organizations, research councils, industry, media, and politicians. The global population is ageing dramatically, and by 2020 there will be more over 65s than under 16s. Is society prepared? Will the world be populated infirm and demented old people, or will it be an advantage that more people have longer life experience? Watch the seminar on: gu.se/Almedalen
CARe (Center for Antibiotic Resistance Research) held a seminar with the theme, "Our antibiotics in their water – emissions from pharmaceutical production and possible solutions". Massive emissions from antibiotics manufacturing increases development of antibiotic resistant bacteria, one of the biggest global challenges of our time for the society. How can Sweden take responsibility for reducing these emissions? Together with politicians, industry, and the public, the researchers discussed what we do, do not do, and maybe should do. Watch the seminar on: gu.se/Almedalen
Health care
Another appreciated activity was Sahlgrenska Academy's Life Science mingle, organized with Swedish MedTech, the association for medical technology in Sweden. Around 60 participants were able to meet members of Sahlgrenska Academy's management and discuss current and future possibilities in Life Science. Johanna Adami, appointed investigator for regulating biobanks and President of Sophiahemmet University, and Lars GJ Hammarström, Strategic Relations Officer at SciLifeLab (national center for molecular biosciences with focus on health and environmental research) presented insights and reflections.
More about Sahlgrenska Academy's participation on: sahlgrenska.gu.se/forskning/aktuellt
The extensive Almedalen program included many exciting program items for anyone interested in health and medical care and issues. A small selection. The Swedish Medical Association arranged a seminar on the theme "How can we re-set health care to meet the future challenges". The panel included the Heidi Stensmyren, president of the Swedish Medical Association, government investigator Anna Nergårdh and political representatives from several regions. One much discussed topic was how much administration the health care sector can manage, and several of the participants raised that the process many administrative tasks health care can manage, and several parties stated that more rigorous screening is needed, to make sure time is spent on the right things.
In the seminar "Credit where credit's due – PhD students' journey to independence" the relationship between PhD students and doctoral supervisors was discussed. The panel included Anna Ilar, Chair of the SULF's Association of Doctoral Candidates (SDF) Board, and the Director General of the Swedish Research Council, Sven Stafström. Organized by Swedish Association of University Teachers and Researchers, SULF. The classic question of who takes credit for results – but the panel was generally in agreement that the issue is manageable, and the majority of PhD students are very satisfied with their education. However, as Anna Ilar emphasized, it is important that the higher education institutions pick up on doctoral supervisors not functioning well, and have good routines to discover and manage problems.
Misconduct and steering
Uppsala University arranged a lecture on "Misconduct in research and ethical reviews – how the patient is protected" led by deans from Uppsala, Lund and Linköping University. It is a high interest subject, not just in light of recent headlines about medical research misconduct. SOU 2017:10 New procedures to promote good practice and manage research misconduct is currently under consideration and universities have many thoughts on the proposal. Among other things, the short prescription period, and the serious consequences faced by researchers suspected of misconduct. The former Vice-Chancellor of the University of Gothenburg, Pam Fredman, was one of the most active in the debate that followed. The university representatives agreed that more work is needed.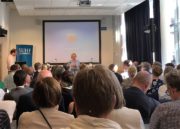 Pam Fredman was also a key panel member for the seminar "Who and what should steer the higher education institutions" organized by the Association of Swedish Higher Education, SUHF. Helene Hellmark Knutsson, Minister for Higher Education and Research who opened the seminar, did in the spring, commission Pam Fredman on behalf of the government to review and propose a new steering and resource allocation system for Sweden's universities and higher education institutions. "Steering for strong and responsible higher education institutions" will be presented in December 2018. Higher education institutions, the Ministry of Education and Research, the Parliament and the Swedish National Union of Students (SFS). Hellmark Knutsson began by stating that "perhaps there is now too much steering and measuring" and standardization. Discussions touched upon increased "programization" and focus on campus-based education – and consequently less focus on continuing professional development and lifelong learning. Allocation of funding – level of independence for institutions to decide – was also a major discussion topic.
Region Skåne arranged the seminar, "Patient movement at any cost? What happens when the system is exploited?". The chair and deputy chair of the Parliament's social committee debated with regional councilors from Skåne. The regional councilors raised the problem of how regions have financial planning difficulties, as they do not know what has to be paid for health care in other EU countries. For example, there is a clinic in Denmark that actively advertises to Swedish patients. Among other things, the discussion addressed how much payment should go to a different country via the state.
Also, many items in the program covered information and that it is so easy to spread unscientific advice and information, for example about food and diets, or treating diseases. Here, the Academy has an important role to play and we need to think about how we can become even better at sharing science based information and advice. An exciting, but difficult task.
Our new Vice-Chancellor Eva Wiberg, and Pro Vice-Chancellor Mattias Goksör spent their first days as new the new university leadership at Almedalen. Read more on: http://www.gu.se/omuniversitetet/aktuellt/nyheter/detalj//rivstart-i-almedalen-for-nya-rektorn-eva-wiberg-.cid1484702
More about the University of Gothenburg's activities at Almedalen: gu.se/almedalen
You can watch all seminars from the West Sweden Arena on: http://vastsvenskaarenan.se/vara-live-sandningar/