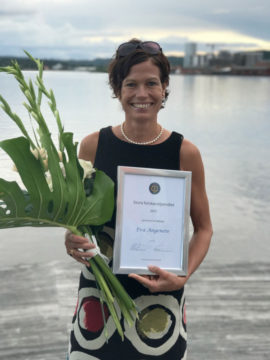 AWARD. At the Surgery Week in Jönköping this August, Docent Eva Angenete was awarded the "Swedish Surgical Society's Major Research Award" for her research on colorectal cancer.
Eva has been responsible for several noted studies that evaluate and develop the treatment of colorectal cancer. She is published in the most prestigious journals, such as the New England Journal of Medicine and Annals of Surgery.
"It's a great honor for me and my research team that I've received this award. It will help us continue the research with a focus on improving the treatment for patients with colorectal cancer and anal cancer," says Eva Angenete, Head of the Department of Surgery at the Institute of Clinical Sciences.
The prize money will be used to start two new studies, one about non-surgical treatment of rectal cancer and one on the significance of social media in a colorectal cancer diagnosis.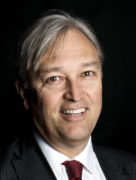 "I'm incredibly proud and pleased that the Swedish Surgical Society named Eva this year's award winner. The prize is always awarded in tough competition and this is national recognition that Eva is one of surgery's leading researchers," says Peter Naredi, Head of the Institute of Clinical Sciences.
Surgical treatment, quality of life and health economics
In clinical practice, Eva Angenete works as a colorectal surgeon with a focus on advanced colorectal cancer, anal cancer and minimally invasive methods. She works in a research team where all of the clinical studies are done in a network of Scandinavian academic surgeons (SSORG – The Scandinavian Surgical Outcomes Research Group). Together with her colleagues, she has, among other things, introduced the new technique of transanal TME in Sweden. This is a new method to simplify low anastomoses on the pelvic floor in rectal surgery.
Read more about Eva's research. http://surgery.gu.se/personal?userId=xangee
About the award
The award is the Swedish Surgical Society's finest and is awarded every year by a committee that received nominations from all of Sweden's universities. Besides the honor, a prize amount of SEK 250,000 is paid to the winner's university or accountable body.
Basis for nomination: Young driving researchers in the surgical sciences with a clinical focus in their research. Every region identifies the two or three best researchers. Then, a winning representative is named for each region and the year's winner is chosen from among them. For more complete information, visit the Swedish Surgical Society's website.
http://www.svenskkirurgi.se/index.php?option=com_content&view=category&layout=blog&id=115&Itemid=466
TEXT: SUSANNE LJUNGMAN WESTERGREN
http://www.svenskkirurgi.se/index.php?option=com_content&view=category&layout=blog&id=115&Itemid=466
TEXT: SUSANNE LJUNGMAN WESTERGREN