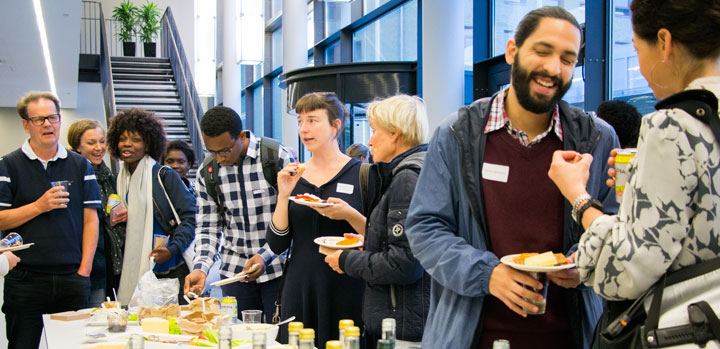 EDUCATION. The autumn semester has gotten started and the students are back at Sahlgrenska Academy. Akademiliv was on hand this Thursday when new students were welcomed to the Public Health Science Program with Health Economics and the two international master's programs, the Master's Program in Global Health and the Master's Program in Public Health Science with Health Economics.
[See more pictures from this welcome mixer further down]
Muwada Bashir, Ginika Uwakwe and Liliana Ramirez found each other at the mixer outside the Arvid Carlsson auditorium. They have just begun in the same class – they are attending the Master's Program in Public Health Science with Health Economics – and have just moved to Sweden. Muwada, from Sudan, and Ginika, from Nigeria, already made contact with each other at roll-call a few days ago, and met Liliana, from Colombia, here at the mixer today.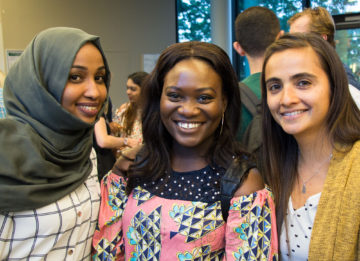 "There are so many different nationalities in the class – European, Asian, African, South American – and I'm looking forward to seeing what the discussions between people with such different backgrounds and experiences will lead to," says Ginika Uwakwe, whose dream is to be able to work in the UN Population Fund, a UN body for reproductive health.
Muwada Bashir is a trained doctor, and has chosen to take the Master's program at Sahlgrenska Academy to broaden her continued clinical work with public health work. She is enjoying Gothenburg so far.
"We've been very well taken care of. Before I traveled to Sweden, I was worried that people would be hard to make contact with, but everyone is very open and welcoming," says Muwada.
Liliana nods in agreement, and adds that the lessons so far have also maintained a high level:
"I was set on doing a Master's degree in Europe, and had actually decided to study in Germany, because the education there is free for me coming from South America. Then when I got a scholarship, I took the chance to study here."
Film and mixer
The Section for Epidemiology and Social Medicine (EPSO) chose to take a comprehensive grasp to welcome new students. A hundred students participated in the welcoming mixer at the Arvid Carlsson auditorium.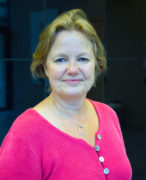 "We would like to create a sense of community over the program boundaries. New undergraduate students can, for example, get inspiration and a better view of their future studies. We also believe it's important to let the students feel that they are a part of a larger whole and not just a part of their own little program," says Monica Bertilsson, who is responsible for the Bachelor's Program in Public Health Science with Health Economics.
After a few words of welcome, there was a film showing in Arvid Carlsson – the documentary The Divide on how the gap between rich and poor characterizes life for seven individuals in the U.S. and the UK.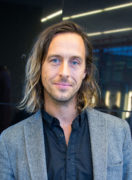 "The significance of social factors to the individual's lifestyle and health is an important topic in public health science. Besides the social aspects, the film is intended to provide an introduction to discussions in upcoming lectures and seminars," says Jesper Löve, Program Coordinator for the Master's Program in Public Health with Health Economics.
Financial supplement
Both of the international master's programs, Global Health and Public Health with Health Economics, are taking in more students this year since so many qualified students from countries outside Europe applied to the programs. These students pay for their education themselves, through scholarships for example, which increased the financial basis for the programs.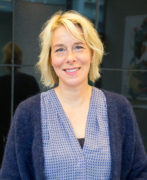 "We will now be able to offer more individual feedback and supervision to the students, but we will also be able to use the supplement to invite external researchers and arrange career meetings with people who work for example in the WHO," says Director of Studies Gunilla Priebe.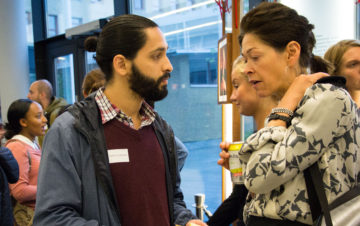 "In that the master's students have such different educational and professional backgrounds, they come to us with varying levels of expertise in different areas. This year, we are therefore beginning the semester with diagnostic tests and then offering extra lessons or in-depth seminars, so that the education is more rewarding for everyone," adds Monica Hunsberger, Program Coordinator for the Master's Program in Global Health.
Global health is a new public health science and interdisciplinary master's program, whose first group of students will graduate in June of next year. The master's program is being offered in collaboration with several institutes and departments. So it will be clear how various disciplines can create a comprehensive understanding for a health problem, the courses are set up in smaller components beginning this year, where a topic is illustrated from different scientific perspectives.
"One component can, for example, begin with lectures that present central concepts in order, empirical research results and examples of how international and local actors practically work in the field. The component is then summed up with the students writing short reflections that they present and discuss in groups at a seminar," says Gunilla Priebe.
TEXT AND PHOTO: ELIN LINDSTRÖM CLAESSEN