YOUNG RESEARCHERS. There are good opportunities available for Sahlgrenska Academy to secure project funding for young researchers from the Swedish Research Council, the Grants and Innovation Office and Future Faculty can confirm; the latter is now offering its members the chance to attend a practical two-day workshop that will help them to fine-tune their applications for this funding.
Over the past few years, only a small number of young researchers at Sahlgrenska Academy have received funding in this category through the Swedish Research Council's main call for applications. Future Faculty and Sahlgrenska Academy's management agree that there is plenty of potential for many more young researchers to secure one of the the Swedish Research Council's grants for young researchers.
"The fact that we have not had more of our young researchers securing VR grants is not down to a lack of competitiveness or expertise, but rather, as Grants and Innovation Office has concluded, that our applications are not good enough. Both the application quality and numbers could be improved from Sahlgrenska Academy," says Cecilia Bull, who is Chair for Future Faculty at the Sahlgrenska Academy, together with Elisabet Jerlhag Holm.
The workshop, to be held on February 21-22, 2018, will last two whole days and will give the participants the chance to discuss and fine-tune drafts of their VR applications, with the aim of making them clearer and more to the point. What is most important in the application?
Own positive experiences
Cecilia and Elisabet have both had positive experiences of similar workshops, providing an opportunity to scrutinize draft applications intensely, as well as to discuss them in order to make improvements.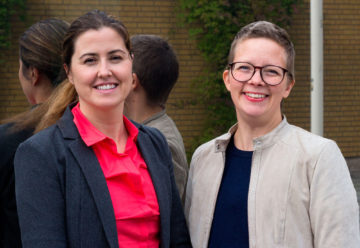 "It worked really well for me. I managed to improve the structure, conciseness and clarity of my application, which gave it more of a focus, complimenting my CV nicely," Elisabet says.
Cecilia tells us that the research group of which she forms part is very proactive in its work to collectively learn how to write both articles and applications. The junior research managers work together with the group's professor to train PhD students in this area.
"We write larger applications together as a group as part of an intensive two-day workshop. I've learned to not sit by myself when I'm writing, but rather to take advantage of the expertise of each member of the group. That also requires you to write in a more structured way than what I was used to before, which is also a more effective way of working," she says.
Easy to become a member
The deadline for applications is January 15, 2018. Applications must include a draft of your VR application, plus your CV. You must also write a short cover letter explaining why you should be considered for the course. The course will be free, with places for around ten participants. The course is for members of Future Faculty; if you are yet to become a member, signing up is an easy process. For more information about the workshop, go to: https://gubox.box.com/s/62hpac255ud9xljyldcc2wid9bq40uua
Future Faculty works in several ways to help young researchers at the Sahlgrenska Academy, including support in the form of seminars, surveys and workshops. On December 4, Henrik Lindskog from the Grants and Innovation Office, among others, will be giving a talk about the EU's Marie Sklodowska-Curie Individual Fellowships program, which is a potential opportunity for young researchers to recruit an international postdoc. http://www.akademiliv.se/2017/09/43263/
Want to join Future Faculty? It's very easy to become a member – and free too! Email: futurefaculty@sahlgrenska.gu.se
TEXT AND PHOTO: ELIN LINDSTRÖM CLAESSEN