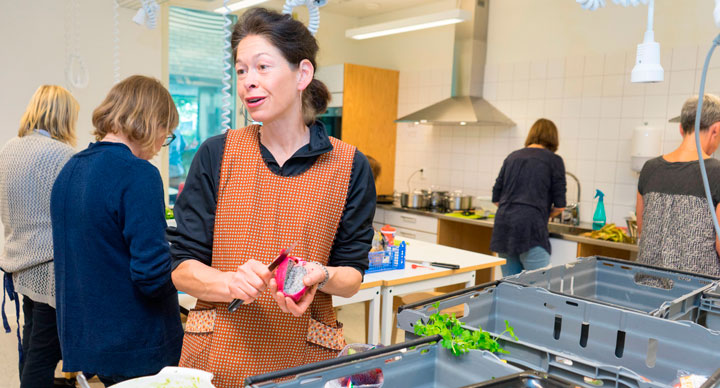 SUSTAINABLE DEVELOPMENT. Around one-third of all food produced globally lands in the garbage can.
Is it because it's gone bad?
– Of course not! Monica Hunsberger explains that the food is thrown away just to make space for the next delivery. Together with colleagues at her institute, Monica Hunsberger has organized a "food rescue party".

On the food saver menu
Green salad with radish and bell pepper
Roasted asparagus and string beans
Roasted beets, parsnips, carrots, broccoli, eggplant, onion, and potatoes
Fresh snap peas, carrots, and cucumber
Avocado dip with lemon and fresh herbs
Indian stew with onions, celery, kale, bok choi, baby corn, pumpkin, red bell pepper, fresh turmeric, and garlic (with bought coconut milk)
Pear, apple, apricot, persimmon, and rhubarb cobbler
Donated sourdough baguettes
Alcohol-free punch with fresh herbs, fruits, and cinnamon sticks
Onions, oregano, apple and cinnamon – these delightful aromas are first things to greet us in the dietitians' kitchen located at Medicinaregatan 13. Around fifteen employees at EPSO, the Section for Epidemiology and Social Medicine, have gathered around tables and ovens to create the evening's vegetarian dinner, to which other colleagues have been invited.
"Together with Resursrestaurangen – a non-profit organization located in Gothenburg's Majorna district – we have been given 40 kilograms of fruit and vegetables from the Hemköp grocery store on Stigbergstorget that would otherwise have been thrown out. All the items used are weighed and listed so we know what we have to work with", explains assistant professor Monica Hunsberger, as she slices a beautiful pink pitahaya.
For groceries saved from the garbage can, the quality of the eggplants, avocados and potatoes on the table is surprisingly good. The fact is, they don't appear to have anything wrong with them at all.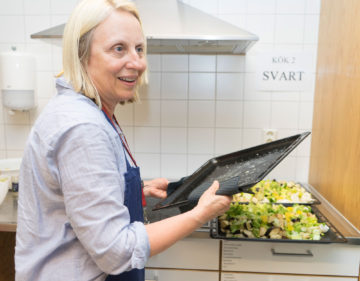 "No, but oftentimes food that's thrown away is as fresh as it can be! Using food sent to the trash is environmentally smart and economical, but it's also creative – you can't follow a recipe when you don't know the ingredients you're going to get. Instead, you have to improvise", explains Lauren Lissner, Professor of Epidemiology.
Marisa da Silva is an exchange student from the University of Tromsø, and has just finished chopping a bunch of carrots. She believes that this cooking project is a great way to get going after the summer.
"At EPSO, we research nutrition. But a hands-on approach to food is also very inspirational, and the discussions around the chopping boards and stoves become a little different".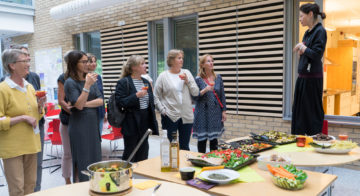 "Dessert is a cobbler with pear, apple, apricot, persimmon, and rhubarb", says PhD student Anke Samulowitz who has mixed butter and oats together for the topping.
"Cobbler is a great way to make something from almost any leftover fruit".
Short lectures will be given in the afternoon. In one, Monica Hunsberger says how UN sustainability goal 12:3 addresses cutting global food waste in half by 2030.
"Food is thrown out at all stages: during production, distribution, sales, and finally by we the consumers. As well as the obvious unethical act of destroying food when millions of people are starving to death, the waste also leads to increased soil erosion, greenhouse gasses, increased food prices,
drought, and loss of biodiversity".
Paul Wallner from the collaboration partner Resursrestaurangen explains that this food being used creates a win-win situation.
"For example, the suppliers and buyers we work with do not need to pay Renova as much because they have to come and dispose of the food, since we take care of it".
Can food waste also be a research topic?
Yes, several ideas came up during the dinner such as studying attitudes on ugly fruits, and investigating how saved food can encourage veganism.
"We managed to use around 30 kilograms of food for the dinner", says Lauren Lissner. "We didn't throw out the leftovers, we gave them to our dinner guests to take home instead".
TEXT: EVA LUNDGREN
PHOTO: ALLAN ERIKSSON
The original text was first published in the GU Journal, no. 4-2017