EDUCATION. The autumn of 2017 will mark the first time that Sahlgrenska Academy offers the course "Women's health and physiotherapy with a specialization in gynecology, obstetrics and urology." The course is offered at the advanced level and is the only one of its kind in Sweden.
The course is intended for qualified and registered physiotherapists, and this autumn's course has drawn physiotherapists from all over the country to Gothenburg. The course focuses on the gynecological, obstetrical, and urological symptoms and diagnoses that are relevant to interventions carried out in physiotherapeutic practice. Upon completing the course, students will have enhanced their skills in measurement methods, assessment, and the treatment of women who seek help with problems related to pregnancy and childbirth (for example).
Great need and high demand
Course coordinators Monika Fagevik Olsén and Annelie Gutke have long emphasized the need for training and advanced courses within this specialized area, including through their directorships in the Women's Health division of Fysioterapeuterna, a Swedish association of physiotherapists.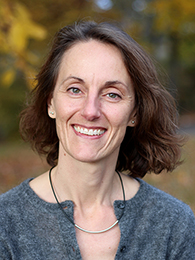 "The association has received many requests for courses, and the non-academic courses we have offered have sold out. Today – more than ever – there is a demand for courses that earn academic credit, and before now no Swedish universities have offered any in this field," says Annelie Gutke.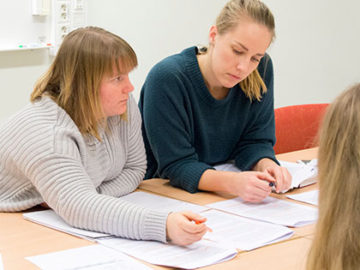 Fysioterapeuten och kursdeltagaren Annelie Nilsson från Borås är en av de studenter som är glada över att nu kunna fördjupa sig inom kvinnors hälsa på avancerad nivå. Hon tycker att fysioterapeuters kompetens i området är mycket viktig:
– Ungefär hälften av Sveriges befolkning består av kvinnor och det finns många tillstånd som enbart drabbar oss kvinnor där fysioterapi är en viktig del vid undersökning och behandling. När jag gick fysioterapiutbildningen var det inte många lektioner som berörde enbart kvinnors hälsa och jag tycker att fördjupad kompetens inom området är lika viktig som fördjupad kompetens inom till exempel ortopedi eller neurologi.
Physiotherapist and course participant Annelie Nilsson from Borås is one of the students who is excited to now be able to specialize in women's health at the advanced level. She thinks that it is very important that physiotherapists be competent in this area:
"About half of Sweden's population are women, and there are many conditions that only affect us women, and for which physiotherapy is an important part of the examination and treatment process. Back when I was studying physiotherapy, there weren't many lessons that focused exclusively on women's health. in my opinion, in-depth expertise in this field is as important as specialized expertise in areas such as orthopedics or neurology.
Links to everyday clinical practice
For physiotherapists, the course will constitute a foundation for specialization in women's health, and it therefore contains a course module on each area of this specialist expertise: obstetrics, gynecology, and urology. Teaching is carried out in the form of independent study, group work, lectures, skills training and seminars. Both the study assignments and the exam have a clear link to the students' daily clinical practice, so that upon completing the course they will be able to apply their newly acquired knowledge and skills to their professional work.
The course participant Annelie Nilsson mentions the lectures and seminars which dealt with stress and pain as examples of course elements that have been particularly interesting:
"Stress and pain in the pelvic and genital area are unfortunately quite common in the women we treat. Pain is complex and often difficult to understand, so I have found it useful to gain deeper knowledge in that area," explains Annelie Nilsson, who works at the Women's Clinic at Södra Älvsborg Hospital in Borås.
Physiotherapy is effective but specialist expertise is needed
"Many of the women we meet say that they have encountered ignorance bout these issues when seeking medical care, and many are not aware that physiotherapy can be so effective in treating difficulties they experience following pregnancy and childbirth. For example, they may be dealing with pelvic pain, urinary incontinence or prolapse" elaborates Annelie Gutke, who is one of the course coordinators and who works as a physiotherapist with specialist expertise in gynecology, obstetrics and urology.
Pelvic pain is the most common painful condition of pregnancy. It affects 50 percent of all pregnant women and can even make it necessary to go on sick leave. In a longitudinal study, Annelie Gutke and her colleagues have found that around ten percent of participants experienced persistent pelvic pain ten years post-pregnancy. Pelvic pain an prevent women from remaining physically active. In addition to negatively affecting their overall health, inactivity also increases the risk of developing diabetes during pregnancy and a high BMI and cardiovascular disease later in life.
Physiotherapeutic treatment has been shown to be effective in combating pelvic pain. However, it is crucial that the physiotherapist have in-depth knowledge and experience in the field, emphasizes Annelie Gutke, who explains:
"Pain in the pelvis has to be distinguished from lumbar pain and must be treated specifically. If no differentiation is made and treatment and training for common back pain is used, woman often end up in even greater discomfort."
Childbirth is the clearest risk factor for incontinence. Two out of three women report urine leakage during pregnancy. Among other women of childbearing age but who are not pregnant, between five and twenty percent experience urinary incontinence. Urinary incontinence is clearly more common among women than men, and this is related to pregnancy and childbirth.
There is strong evidence that pelvic floor exercises can both prevent and treat incontinence, says Annelie Gutke:
"For example, for good treatment results, you need to have specialist expertise in assessing pelvic floor function, in order to be able to give specific training recommendations.
The next course will be held in the spring of 2019. It is a separate course at the advanced level and can be included in master's degree studies within the primary field of physiotherapy. The course can also be offered as part of a contract education program. Syllabus (PDF, new window) >>>
TEXT AND PHOTO: JOSEFIN BERGENHOLZ