COLLABORATION. On International Women's Day, March 8, the Biographical Dictionary of Swedish Women was launched. It highlights a thousand women and their contributions in Swedish society over the centuries. And in the future there will be a thousand more women – at least.
Among the women presented in the dictionary so far, you will find midwives, pharmacists, doctors and nurses as well as professors, researchers, parliamentary speakers, telephone operators and translators. And a number of other professions where significant women served.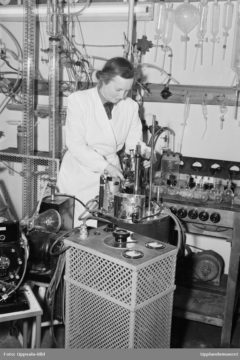 One of the people you can read more about in the dictionary is the woman whom a conference room in Academicum was named after: Stina Stenhagen, who was a prominent researcher in the field of medical chemistry and chemical ecology and who became the first female university professor in 1963.
When the dictionary was presented on March 8, Agnes Wold was among the speakers, as were Lisbeth Larsson, professor of general literary studies; Maria Sjöberg, professor of history; and Marie Demker, dean and professor of political science. Nearly 400 experts have contributed to the project, which has been under way for more than two years and has been led by a research team at the University of Gothenburg.
The Biographical Dictionary of Swedish Women will counterbalance all the reference works in history that for the most part have called attention to men.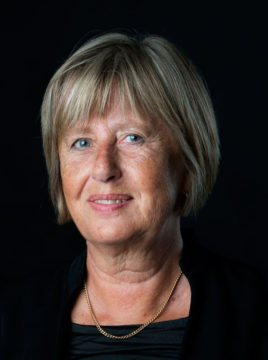 "The idea has been around for a very long time. It has just been a question of time and money," says Lisbeth Larsson, professor of general literary studies at the University of Gothenburg and one of the project leaders. "Initially the plan was a book, but because it has taken so long, we have made a database instead, and I am very happy about that. It's so much more accessible and useful."
The Biographical Dictionary of Swedish Women is introduced now, and it will be freely accessible in both Swedish and English. Anyone can use it – from an interested public to professional groups such as teachers, researchers and journalists.
The database consists of a thousand articles about women who in one way or another have made important contributions in Swedish society, from the Middle Ages to the present day. Many of the women depicted, such as the first female doctor and clergywoman, are pioneers in their fields.
In other respects, the material demonstrates that women's commitment to vulnerable members of society has been strong throughout history, Lisbeth Larsson maintains. For example, during the 19th century many women became teachers, missionaries and nurses.
"You can see their assiduous and impressive struggle to educate and to establish schools, children's homes, care institutions and other social institutions. How they plain and simple build well-being before the society was prepared to do so and venture out into the world to heal wounds and alleviate privation during the Great War. During the 20th century, occupational choices become more diverse, but the same trend is there. Women are always ready to step up."
Work on the Biographical Dictionary of Swedish Women is not ending with the launch of the database.
"We will continue working and add an additional thousand women in the next few years. Then probably others will take over. There is a whole lot to be done!"
Link to a video interview with literary scholar Cecilia Pettersson about the dictionary: https://play.gu.se/media/1_oio9iwja
Lisbeth Larsson on an example from the Biographical Dictionary of Swedish Women:
"Anna-Britt Agnsäter, who was the manager of the Swedish Co-operative Union's test kitchen from 1946 to 1980, is a person most people certainly have not have heard of but whom we live with every day. She came from Älmhult and trained as a home economics teacher. First she managed household affairs for the well-known Medborgarskolan at Fogelstad. Subsequently, at the Co-operative Union's test kitchen, she started consumer testing and test cooking and began a splendid education of the Swedish people when it comes to eating habits. She was the one who decided that a tablespoon is 15 milliliters and a teaspoon 5 milliliters. She created the image of the food pyramid as the basis for what we eat, which we still have in the back of our head. She wrote 30 cookbooks, including Vår Kokbok (Our Cookbook), which came out in 1951 and is found in most Swedish homes. It has been printed in 13 editions."
TEXT: ELIN WIDFELDT / ELIN LINDSTRÖM CLAESSEN
Sources:
Stina Lisa Stenhagen, www.skbl.se/sv/artikel/StinaStenhagen, Biographical Dictionary of Swedish Women (article by Anna Tunlid), obtained in 2018-03-08.
Ada Konstantia Nilsson, www.skbl.se/sv/artikel/AdaNilsson, Biographical Dictionary of Swedish Women (article by Kristina Lundgren), obtained in 2018-03-08.