DISTINCTION. Daniel Sundh's dissertation provides new knowledge about novel methods that can be used to identify the risk of fractures among the elderly. The dissertation also points to potential mechanisms behind the regulation of the skeleton's strength. Now his dissertation has been named 2017 Dissertation of the Year by the faculty.
"Receiving the award is a wonderful feeling," Daniel says when I meet him at Mölndal Hospital, where he works. "It's really great that something I've been interested in for such a long time is recognized by the faculty in this way.
Difficult to diagnose
As we get older, the strength of the skeleton decreases and the risk of fractures increases. Osteoporosis affects many people and can produce disastrous consequences. When an elderly, frail person suffers a hip fracture and ends up in the hospital, it isn't at all unusual for him or her to never return home again.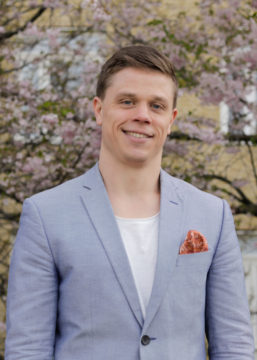 "There are effective and well-documented drugs that doctors can administer to prevent fractures, but finding the right individual to treat before a fracture occurs is much more difficult. "A large proportion of elderly people who get a fragility fracture would not have been diagnosed with osteoporosis at a regular clinical bone density measurement," says Daniel, who is also a trained pharmacist.
Differences in structure and material properties
Today the diagnosis of osteoporosis is determined by means of a two-dimensional bone density measurement that generates the patients' bone mineral density (BMD). But of all patients who suffer hip fractures, only half are diagnosed with osteoporosis according to this measurement. Thus, the method has limitations, and the evidence suggests that many patients who are at high risk of fractures still don't get treatment because they don't fulfill the method's treatment criteria. Therefore, a great deal of research is under way to find new and better ways to predict which patients are at risk of fractures.
In his dissertation Daniel examines two of the very latest methods, which examine the bone's structure and material properties instead of just measuring mineral density.
Our skeleton is composed of two different types of bone: the outermost hard shell, which is called cortical bone; and the more porous, almost spongy bone inside (trabecular bone).
"When we get older the trabecular bone slowly resorbs, and we become more dependent on having strong cortical bone to avoid fractures. Everyone has pores in the cortical bone; that's normal. But the more pores there are in the cortical bone and the larger they are, the lower the strength of the bone," Daniel explains.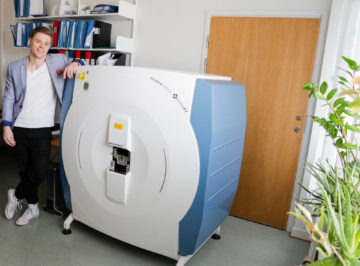 The only one of its kind
For his dissertation work, Daniel made use of high resolution computed tomography (CT) to assess the risk of fractures in more than 3,400 men and women, who are included in two different population studies. The CT scanner, which is located at Mölndal Hospital, is the only one of its kind in Sweden. The machine takes 110 images per centimeter, which then are assembled into a high-resolution 3D image.
"Taking the image itself goes pretty quickly, but a relatively large amount of image processing is required afterwards, which is time consuming. The method will need to become simpler and cheaper before it perhaps can be implemented in clinical practice."
In the fall, Daniel plans to follow up the measurements he made for his dissertation. Through the National Board of Health and Welfare registry, he will then get information about which of the women who were examined with the CT scanner had fractures after the measurement. Then he will find out if his measurements could have been used to predict bone fractures.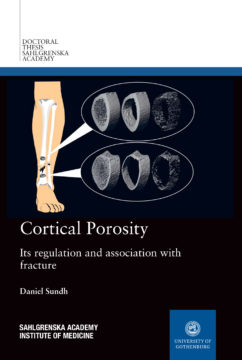 New possible mechanisms
In his dissertation Daniel also has used a different method that provides information about the bone's material properties and links these properties to bone strength. The method that's used involves a needle-like instrument that is inserted into the bone of the patient's lower leg and measures the actual hardness.
"It's a simple method. It may sound dramatic to have a needle stuck into your bone, but it actually doesn't produce much discomfort. Most people don't think it's any worse than taking a blood sample."
The dissertation contains some studies that reveal new possible mechanisms for how the skeleton's material properties and strength are regulated by relating the levels of vitamin D in blood samples and the amount of subcutaneous fat to the skeleton's geometry, microstructure and material properties.
Daniel Sundhs' principal supervisor was Mattias Lorentzon, professor of geriatrics, and his assistant supervisor was Dan Mellström, adjunct professor in geriatrics. Anna Nilsson, associate professor of endocrinology, also has worked closely with Daniel during his time as a doctoral student.
TEXT AND PHOTO: ELIN LINDSTRÖM CLAESSEN
2017 DISSERTATION OF THE YEAR AT SAHLGRENSKA ACADEMY
The Dissertation of the Year at Sahlgrenska Academy is funded by Dr. Arnt Vestby's Research Foundation. The award recognizes a total of seven dissertations that have been defended in the past year. In addition to the dissertation that is singled out as the Dissertation of Year by the faculty, one dissertation is recognized from each of the institutes.
SAHLGRENSKA ACADEMY
Daniel Sundh's dissertation "Cortical porosity – Its regulation and association with fracture" (Institute of Medicine)
INSTITUTE OF BIOMEDICINE
Ganesh Umapathy's dissertation "ALK Oncogenic signaling in neuroblastoma"
INSTITUTE OF CLINICAL SCIENCES
Furqan Ali Shah's dissertation "Osteocytes as indicators of bone quality-multiscale structure-composition characterisation of the bone-implant interface"
INSTITUTE OF MEDICINE
Louise Arvidsson's dissertation "Diets of European children, with focus on BMI, well-being, and families – The IDEFICS/I.Family cohort"
INSTITUTE OF NEUROSCIENCE AND PHYSIOLOGY
Anna Edelvik's dissertation "Long-term outcomes of epilepsy surgery – prospective studies regarding seizures, employment and quality of life"
INSTITUTE OF ODONTOLOGY
Amina Basic's dissertation "Importance of bacterial hydrogen sulfide in the pathogenesis of periodontal diseases"
INSTITUTE OF HEALTH AND CARE SCIENCES
Sara Wallström's dissertation "Health in connection with takotsubo syndrome – Experiences, symptoms and utilization of health care."