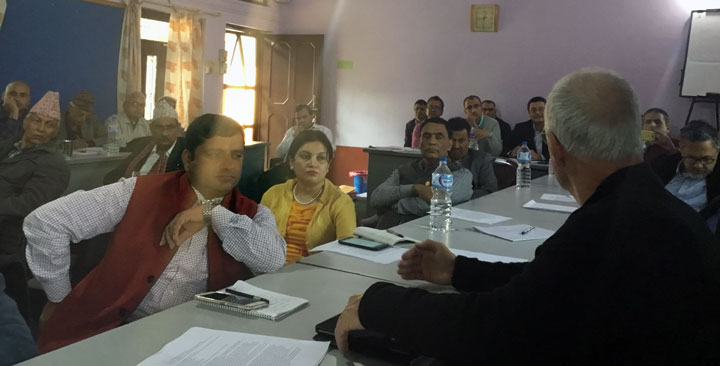 COMMENTARY. An initiative is underway in Nepal to start a completely new type of university, one in which the liberal arts will strengthen the core values of students and provide incentives for them to stay in rural areas of Nepal, contributing to the needs of society when their education is completed. Henrik Sjövall reports from the workshop which served as the starting point for the project.
I was invited to help Nepal build a new university. I became involved due to my friendship with Professor Arjun Karki, whom I have written about previously in Akademiliv (Academy Life). He has been a driving force in this project, and because I share most of his views, he wanted to include me in the working group. The Swedish model, a university funded entirely by the government that is based on common values and critical thinking, is regarded as a kind of goal.
Arjun Karki, the man behind this project, has started a very well-functioning medical training program in Kathmandu, Patan Academy, which I had the honor of inspecting some years ago ( read more via link below). The academy received top marks!
The project aims to put an end to widespread corruption and brain drain in the country through a better university education. In Nepal education has become something of a commercial enterprise; for example, the country has no fewer than 19 medical colleges. Most are private, and the quality varies greatly. But all is not awful. A few years ago I inspected a new medical school, PAHS, and was very impressed. The goal of this educational program is to encourage the students to work in rural areas, but it is now becoming apparent that this is easier said than done. Many graduates ultimately choose to work in Kathmandu or to go abroad. As you know, this phenomenon is not unique to Nepal. Here in Sweden we also have a concentration of doctors in big cities and great difficulties staffing medical centers in rural areas.
And it is in this context that the Nepalese university initiative comes in. Arjun hypothesizes that giving students a hefty dose of liberal arts will create an ethical framework that results in solidarity with rural areas. Whether or not this is realistic remains to be seen. In any case, Arjun has formed a project committee and been promised a significant piece of land in Gaindakot, currently an underutilized part of Nepal. Most of Gaindakot is a plain, but the land area also includes parts of the Himalayan foothills, a mountainous setting characteristic of Nepal.
The first meeting of the project committee was opportunely planned when I was still in the country in conjunction with a private group excursion to Sikkim, Bhutan and Nepal. My wife went home and I stayed an extra week, partly to participate in the project committee meeting and also to visit the five medical students I am supervising for project work this fall.
After bidding goodbye to my wife, I was picked up by a rickety bus taking us to Gaindakot (almost 100 km away). The trip took nine hours. The road between Kathmandu and Pokhara is said to be among the 10 most dangerous roads in the world. People drive like mad and head-on collisions are common. Sure enough, that happened during our trip, which meant that traffic stood still for four hours.
In any case we arrived at last, almost four hours late, which meant that the planned formal inauguration with municipal dignitaries had to be substantially shortened. The ceremony was held reasonably enough mainly in Nepalese, but enthusiasm for the project among local politicians transcended the language barrier.
The place where we stayed was very basic, but our hosts did their best under the circumstances – Gaindakot is not a tourist destination. There were a lot of illustrious people in the committee (international experts, judges, high-ranking politicians), but all gladly put up with these basic accommodations without grumbling. I shared a room with Joachim, a German professor of architecture. The project committee was quite diverse. It included a highly experienced project manager who has started a university in Saudi Arabia and worked for the Pope and the Jesuit Order; a researcher originally from Nepal who now is an international expert on air pollution; a veteran professor of agronomy; a former member of the highest court in Nepal. And then my roommate, the professor of architecture from Berlin. The Swedish delegation consisted of me and Göran Kurlberg, who seems to be Mr. Goran with half of the Nepalese people and who speaks fluent Nepali after spending many years in the country.
Anyway, after a decent night's sleep, it was time to take a look at the promised land. In jeeps with high clearance and four-wheel drive, of course. We had been promised an enormous land area of 50 square kilometers, so we started by looking over the part closest to the paved road. A few huts or sheds already stood there, but this was not considered a problem. They would "be compensated." The topography was relatively favorable. Our architecture professor stated that construction here would not pose major technical problems.
Then we were off into the mountains, bouncing along on totally deplorable roads. One of our jeeps got stuck in the mud, which had the advantage of facilitating a very good informal chat while we were waiting for a tow. We also stopped at a couple of places that were a little flatter, and our hosts enthusiastically suggested that "this is where the city will be located." However, the feasibility of this seemed doubtful – not with those roads! We also visited a small village school which looked rather deserted (the children were away because of a festival). The walls of the school were bare, lacking the vivid drawings, often with an environmental focus, that I had seen in a similar school in Sikkim. It probably is not that easy to build up a head of educational steam in these small mountain communities.

"Both shaken and stirred," we eventually came back to Gaindakot for dinner and reflection. I wound up at a table with the project manager, the German architecture professor and a professor of English who was invited as a spokesperson for the liberal arts. A lively discussion took up dreams, visions and practicalities, the latter dwelled upon mostly by us "Westerners."
The next morning the workshop itself began. As the second item, I intended to show a recorded interview with Pam Fredman, our former vice-chancellor and now president of the International Association of Universities (link), the international organization to which the University of Gothenburg belongs. It turned out that the room had no sound system, so the program was rearranged. People came and went as they pleased, but we finally got together a very exciting smorgasbord of presentations, some in English and some in Nepali, with topics ranging from Nepalese rural policy to the need for education in the liberal arts to water resources. The enthusiasm was undeniable, and I began to slowly realize that they are dead serious about this project.
After the usual lunch (they generally eat the same food every day), I finally managed to show my video (link) in which I interview Pam Fredman, asking what she thought about starting a "democracy school" for the governing class of tomorrow. She liked the idea. However, she cautioned about too much benchmarking ("do not try to copy, adapt to the local rules of the game"). She also recommended trying from the start to fully staff the entire chain, from the undergraduate level to the master's and doctoral levels: "Otherwise you will not obtain highly qualified teachers." She suggested trying to attract home expatriates and trying to create research environments of particular relevance to Nepal, such as management of environmental pollution, sustainable development and public health issues. It seemed to me that the group appreciated her clear support very much.
In the afternoon the committee worked on other problems ranging from urban planning, water resources and road networks to content issues and the choice of educational methods. My group had the topic "faculty development," and we discussed how to persuade qualified people to commit to this risky project. I led the discussion, and we agreed that recruiting teachers is a key issue. There are some "windows" in the life of researchers/teachers when people are recruitable, such as when they have just finished their master's or when they have just completed a doctorate. There are also a whole lot of postdocs looking for "a real job." To attract teachers actively involved in research, you must have research worthy of the name, and it takes time to start this up. Initial affiliation with established groups in Kathmandu seemed like a good strategy, and so did the selection of research projects clearly relevant to the local community. It might also be possible to persuade established researchers in high-income countries to come to Nepal on sabbaticals, partly for altruistic reasons. There must also be a system from the outset for quality audits of the type we have in Sweden, preferably with international support. The recruitment processes must be transparent and merit-based, with no nepotism. We also agreed on the continued need for international support in the form of an international advisory board, preferably with feedback from the International Association of Universities (IAU) during the trip.
In the evening Göran and I met two of our Swedish project students. The students are studying an interesting system for grassroots health care, known as female community health volunteers (FCHVs), who are women out in the villages with basic training in health care. The problem now is that the disease panorama has shifted from infections (tropical medicine) to noncommunicable diseases, such as heart attacks, strokes and diabetes. The students will now look at how this has affected the training of FCHVs. Having assembled no fewer than 80 questionnaires and about a dozen in-depth interviews, they were very pleased with the local supervision. It seems as if there can be more similar projects in the future with the same local supervisory duo.
The next day the threads of the "New University Project" became further intertwined. The usual rearranging of the program occurred for various practical reasons, but as a whole it actually turned out quite good. The main message was that this is feasible, that the project must have a clear value for the local community, that recruitment issues must be taken seriously and that professionals soon should be hired for planning and preparation. There was also some debate on the humanities/liberal arts focus, and after some grumbling about the need for vocational training, I perceived that there was acceptance for that approach.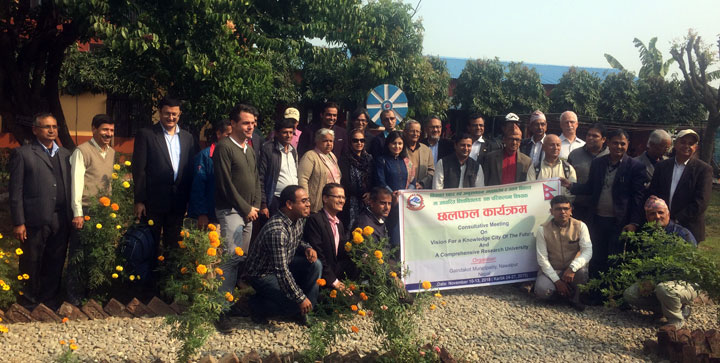 It all concluded with an impassioned speech, in Nepali because it was primarily addressed to the politicians present, which seemed to be well-received. Then it was time for photographs; Asians love group photos. As we awaited that, I had a conversation with the former judge of the highest court in the land, who seemed to be a very discerning person with a high degree of integrity. In answer to the direct question "Do you believe in this project?" she emphatically replied:
"Yes, otherwise I would not be here, would I?"
What can we learn from this? People have always looked upon universities as a bastion of intellectual rigor and critical thinking, and we want to renew and clarify this role. That they still play this role is confirmed by the fact that the first step dictators take is an attempt to clamp down on universities. In Nepal this role has been toned down. Instead the educational system has been commercialized and oriented toward vocational training. The ambitious target of remedying this with a hefty dose of liberal arts/humanities is a courageous attempt at putting a stop to the brain drain, lack of trust in the government and widespread corruption. Sweden, with its publicly funded educational system, is regarded with envy, and Nepal is now trying to adopt selected parts of this.
For me, it is obvious that we are going to help as best we can in the process. Farewell for now, Nepal. We will surely meet again. Good luck with this project. I will activate the academic networks I have and ensure that you receive the help we can offer.
Namaste, see you again, and good luck!
TEXT AND PHOTO: HENRIK SJÖVALL